RZ021 Motion Sensor
Features & Specifications
Sensor Mode: Vacancy mode, Occupancy mode, Occupancy without light sensor mode, Manual ON/OFF mode
Time-Delay: 15 s, 1 min(default), 3 min, 5 min, 15 min, 30 min
Light Sensor: Off, 15 Lux, 25 Lux (default), 35 Lux
Sensor Sensitivity: Low sensitivity, High sensitivity
Power Source: 110 VAC ~ 277 VAC
Power Frequency: 50 / 60Hz
Installation Height: 1.2 m ~ 1.6 m
Detection Distance: 7 m ~ 9 m (<27℃)
Detection Range: < 150°
Detection Speed: 0.6 ~ 1.5m/s
Incandescent / Halogen: 550 W / 120 VAC(5A), 100

0 W / 120 VAC(5A), 

Fluorescent / Ballast / LED: 550 W / 120 VAC, 800 W / 277 VAC(5A), 100

0 W / 120 VAC, 1200 W / 277 VAC(10A), 

Working Humidity: < 93%RH
Working Temperature: -20 ~ +40℃
Ready to Use, Easy to Operate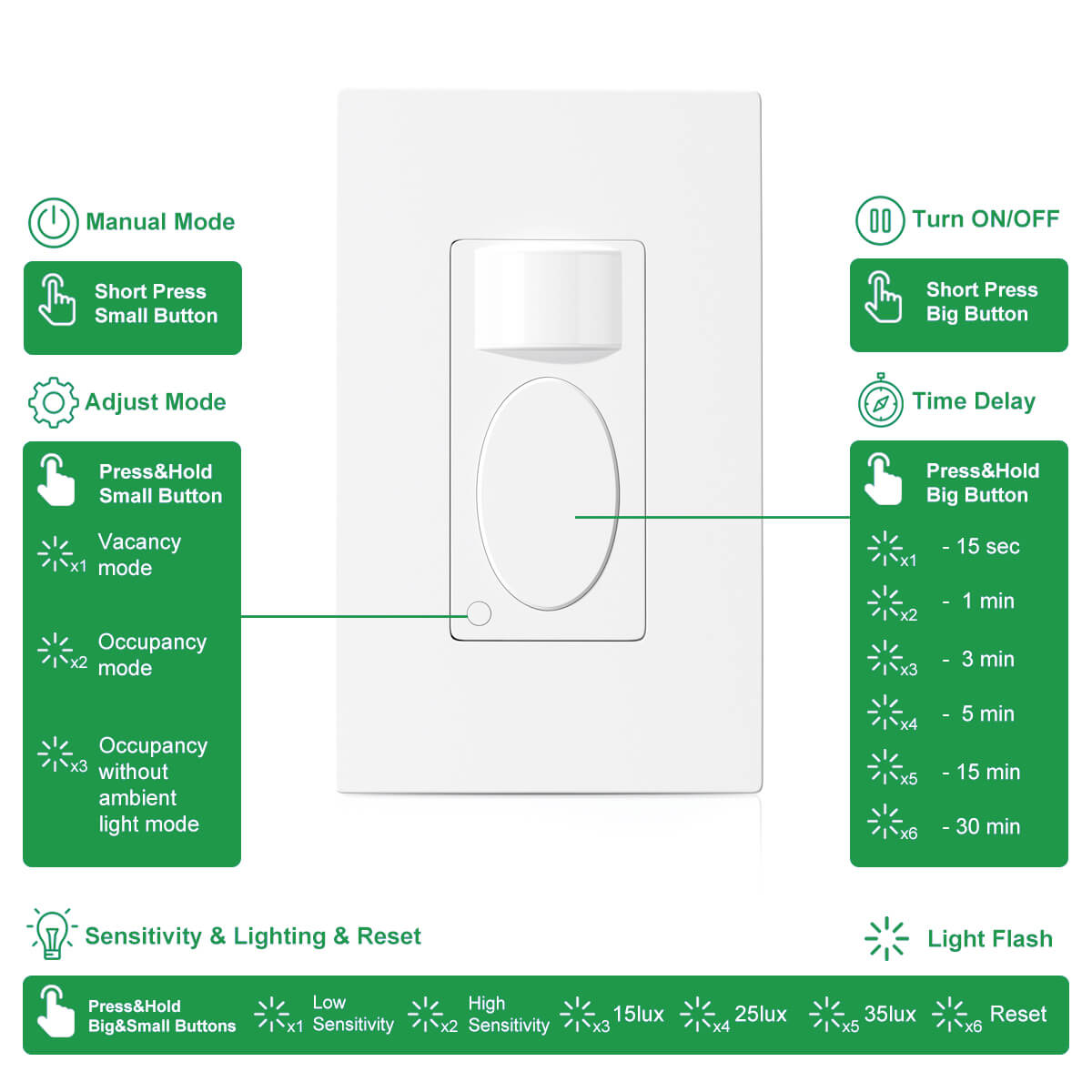 Factory Setting
Occupancy Mode
Time Delay: 1min
Light Sensor Value: 25Lux
Customization
Working Mode: Vacancy Mode, Occupancy Mode, Occupancy without Light Sensor Mode, ON/OFF Mode
Time Delay: 15s, 1min, 3mins, 5mins, 15mins, 30mins
Sensitivity Adjustment: low sensitivity, high sensitivity
Light Sensor Value: OFF, 15Lux, 25Lux, 35Lux
Factory Settings Reset
Applications
Bathroom

Auto on/off occupancy sensor mode is the ideal energy-saving lighting mode for home bathrooms where we enter and leave quite often. With our hands often wet or dirty, the auto on/off lighting saves us a lot of time and helps keep your house clean.
Laundry Room
With a ceiling mount occupancy sensor, you don't have to struggle to touch the light switch while arms-full. The RZ036 series ceiling mount occupancy sensor will turn on the light when you enter the laundry room and turn the light off when you leave.
Home Garage
When entering and leaving the garage, the occupancy sensor can automatically turn the light on and off to spare us time and effort especially when our arms are full.